Pest Control Baulkham Hills
All Year Round Protection
100% Safe Cuaranteed Results
Pest inspection in Hills District
The issue of compliance with sanitary standards has been a hot topic for many years now. The quality of your living environment is an essential factor in determining how comfortable you feel. It also affects the health status of yourself and those around you. In cities, there is an increasing number of insects and rodents. Every day new types of microbes and viruses appear, and they adapt to the usual methods of struggle. It is becoming more and more difficult to deal with them on your own at home every day. In such cases, the Safe Pest Control Baulkham Hills come to the rescue.
For over 15 years, The Safe Pest Control has been providing quality service with a focus on safety in Baulkham Hills and the surrounding Region.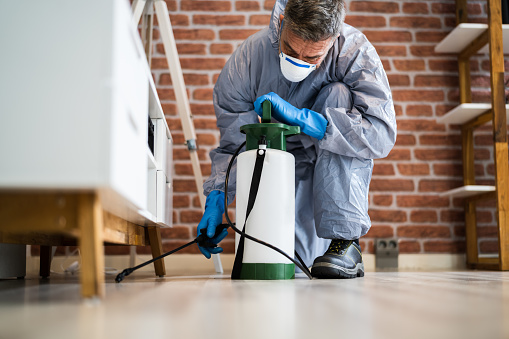 About Us:
Residents of Baulkham Hills and the Baulkham Hills region often face the problem of controlling insects and rodents in their homes and apartments. The premises often become a haven for ants, cockroaches, bedbugs, mice, and rats. Apartments in which there are pets quite often become places where fleas accumulate. This leads not only to a violation of comfort and cleanliness in the house. Insects are potential carriers of various infectious diseases.
To protect themselves and their families, many try to destroy bedbugs, cockroaches, and mice on their own. However, due to ignorance of effective methods for the destruction of cockroaches, bedbugs, ants, and other insects, as well as having no experience in dealing with mice, rats, and other rodents, this attempt often leads to even worse consequences.
In this situation, we the Safe Pest Control Baulkham Hills come to the rescue. Our pest control company fight against insects and rodents in apartments and houses. Destruction of insects and parasites with hot and cold fog.
The specialized service Safe Pest Control uses modern technologies and methods of insect extermination. As well as being safe for human health means combating cockroaches, bedbugs, and ants in apartments and houses. We treat premises from cockroaches and bedbugs only with cold and hot fog generators and use preparations not only from domestic but also from leading foreign manufacturers.
The priority activity of our disinfection service is the destruction of insects (bugs, cockroaches, ants, fleas) in private houses and apartments, where in addition to exterminating the entire population of pests from the first time, it is necessary to ensure absolute safety for residents, pets, furniture and interior items!
Many years of experience in dealing with various pests, a wide range of certified products from trusted manufacturers, the most modern equipment allows us to achieve maximum results in a short time and at the best price!
 Services We Provide:
The Safe Pest Control provides services for the destruction of insects, rodents, and microbes both in private houses and apartments and in the industrial, warehouse, and office premises. See below in detail the services we provide…
Disinsection:
Disinsection is carried out to ensure the sanitary and epidemiological well-being of the population. This is a set of measures necessary to get rid of the population or reduce the number of insects and arthropods, the development of methods of control and monitoring, as well as the creation of conditions unfavorable for their life.
By controlling and eliminating insects, the risk of catching dangerous infections and diseases transmitted by insects, as well as the spread of these diseases among people and animals, is reduced. Insects (arthropods) – can be carriers of vector-borne diseases, causing damage to human and animal health.
Disinfection is a set of measures that are aimed at the destruction of viruses, bacteria, mold, or fungus spores. All these microorganisms are the causes of many serious human diseases, such as tuberculosis, and create an unfavorable environment for life. Sanitization is carried out in car bodies and interiors, residential buildings, public places, etc.
Preventive disinfection is carried out to prevent the spread of dangerous viruses and microorganisms, and is most relevant in places of possible infection and spread of diseases (in medical institutions, kindergartens, schools, and other public places).
Deratization: 
Rodents in a house or apartment are a serious threat to the health of the family and the safety of the property. Before you have time to look back, they will infect someone close with a dangerous infection, and make repairs, furniture, and food supplies unusable. Note also that their numbers are growing at a high rate, day by day. If you do not contact the SES service in time for deratization services and do not start the fight against rodents, you can suffer significant damage.
Fumigation is one of the methods of destruction of insect pests and pathogens of plant diseases (mold, bacteria). With the help of a special apparatus, fumigator chemical preparations are converted into steam, due to which the active substance penetrates into microscopic pores and cracks, effectively destroying insects, and microorganisms and protecting the processed material for a long time.
Specialists of the Safe Pest Control Baulkham Hill offer fumigation services using high-quality imported chemicals (fumigants). The most commonly used are gaseous phosphine and methyl bromide. For all its effectiveness, the fumigation method is safe for people and pets, does not cause allergic reactions, and does not damage furniture and interior decoration.
Sanitization:
For each enterprise or institution, insect and rodent control services may differ in complexity and scope of work. We can carry out a one-time high-quality treatment or, for maximum results, conduct continuous monitoring of objects under the sanitation program.
For all services of our service, relevant documentation acts, and certificates of processing for regulatory authorities are provided. Our experts will advise you on the necessary sanitary documentation for your business.
Deodorization:
Deodorization is an air purification procedure that is relevant for any type of premises: apartments, houses, hotels, shops, and restaurants. Experts will help in eliminating the smell of burning, cigarette smoke, mustiness, sewage, or carrion.
Thanks to modern technologies, odors can be destroyed in a variety of ways: for example, ozonation, irrigation, etc. Our disinfection service uses hot and cold fog generators, as well as an ozonizer.
Trusting the professionals of our company, you will quickly and effectively bring cleanliness, completely get rid of the unpleasant smell.
Eco-Friendly Services
You would be surprised to know how often people undermine the importance of pest control commercial services. They believe their efforts to keep their property clean and spotless will get the job done. If only things were that simple!
The thing is that these pests and rodents thrive in places that evade our attention. And it's tricky to keep an eye on everything. No matter how hygienic you are, there's bound to be a difficult-to-reach area in your house that can be a hub for insects.
You might be doing everything right to keep your shop or office clean, but you can't force everyone to follow the same approach. Sometimes, all it takes is an unnoticed spill for pests to come crawling and infiltrating your property! Yes, it's about time you start thinking about a pest inspection in Sydney.
Keep in mind that pests are active throughout the year! And they live for quite a long time, setting up colonies and infiltrating the entire place. Of course, you can contact pest control companies once you notice the infestation and eliminate them all at once. But the problem is, typically, the problem is detected only when significant damage is done. A timely pest inspection can prevent this.
Baulkham Hills Pest Controller
There's a lot that you will have to cover if you intend to manage pest control on your own. For one thing, all the holes and cracks in windows and doors have to be sealed. You have to ensure that the gutters and drains are in good shape. The vents should be covered with wired mesh.
The baulkham hills nsw property should be cleaned regularly to get rid of residue food particles. Clothes and linen should be washed on time. Airtight containers should be used for covering food. And corners could be decluttered.
These measures can undoubtedly minimize the risk of pest infestation but cannot eliminate it completely. Pests need merely a small opening to enter your building and begin their work. So what's the solution? Yes! A professional pest control company can come to your rescue!
Keep Risks At Bay With Professional Pest Control Services
One of the gravest mistakes you can make is to believe that dealing with pest problems should be delayed until there's substantial evidence for it.
Pests start their infestation long before you even spot them for the first time. And a small infestation can transform into a bigger problem sooner than you realize. Why put yourself and your property at risk when the matter can be dealt with without much effort?
All you need to do is contact a reliable pest control company, and they will handle the rest. Safe Pest Control has years of experience in this field. We have been freeing commercial and residential properties from this nuisance for a long time. So we know exactly what needs to be done.
We cover the whole of Sydney, including Baulkham Hills, Belmore, Ashfield, Bronte, and beyond. Remember, a timely pest inspection can save you a tremendous amount of money. Give us a call now and leave the rest to us!
100% Safe Cuaranteed Results
Follow up checks with Every Services
All Year Round Protection
hire the best team in town!